Mahonia Bealei
Mahonia Bealei is sometimes treated as a separate species to the Mahonia Japonica, and sometimes as a cultivar of the Mahonia Japonica species, under the above name. Its most obvious differences from the type are in shorter racemes and wider leaflets.
This shrub has evergreen, leathery fern-like foliage.
In Spring and Summer, it flowers in yellow chains up to 30cm long and 5 - 8cm wide.
These are followed by purple berries (not to be eaten) in Autumn.
Height 2 - 2.5m. Width 1.5 - 2m.
Full sun/shade.
Frost tolerant and drought hardy
Pollen and Nectar
Availability:
Out of Stock
Back in stock? Sign up to be notified when it comes back in
Ask a Question
How We Do Things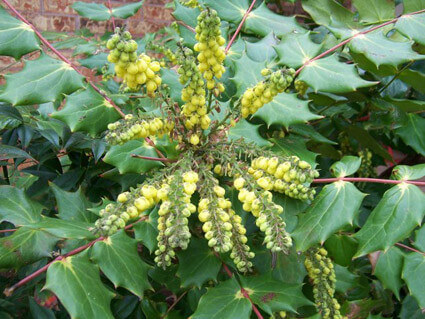 view full screen
---
Recently Viewed
Your recently viewed products will be shown here as you browse
Questions? Contact White House Nursery