Syringa wolfii - Manchurian Lilac
This species Lilac is Spring flowering.
Large feather duster-like heads of mauve/lilac flowers with a lovely perfume.
In Autumn the leaves turn yellow and the plant is dormant over Winter.
A good specimen or border plant.
Height to 3m. Width to 3m.
Full sun to part shade.
Frost tolerant & drought hardy.
Nectar and Pollen
SKU:
Syringa wolfii - Manchurian Lilac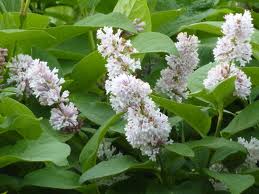 view full screen
---
Recently Viewed
Your recently viewed products will be shown here as you browse
Questions? Contact White House Nursery