Mahonia Nepaulensis
This is a very rare variety.
Peter first saw this plant at Bert Chandler & Son Nurseries in their Como Gardens, The Basin, Victoria.
Peter propagated cuttings from this plant and the ones we have to offer are generations down the track from that original plant.
This shrub has yellow flowers in Summer, 45 -60cm long and 10 - 15cm wide.
Black berries on long chains in Autumn.
Height 2 - 2.5m. Width 1.5 - 2m.
Full sun/shade.
Frost tolerant and drought hardy
Pollen and Nectar
Availability:
Out of Stock
Back in stock? Sign up to be notified when it comes back in
Ask a Question
How We Do Things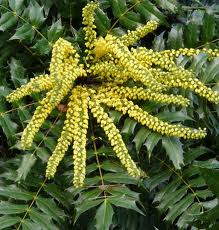 view full screen
---
Recently Viewed
Your recently viewed products will be shown here as you browse
Questions? Contact White House Nursery