Schinus Molle - Peruvian Peppercorn Tree
Schinus Molle, Peruvian Pepper, also known as American pepper, Peruvian pepper tree, escobilla, peppercorn tree, Californian pepper tree, and Peruvian mastic. is an evergreen tree is native to the Peruvian Andes.
This large tree is ideal as a specimen or shade tree in a large garden or farm.
The trunk and branches seem to look older than they are giving the tree structure early in it's life.
Chains of cream flowers in Summer followed by Peppercorns, which turn pink in Autumn. By Winter they are ready for picking and drying for use in cooking.
Height 10m+ Width 10m+
Full sun.
Frost tolerant & drought hardy.
30cm high plants available at the moment.
SKU:
Schinus Molle - Peruvian Peppercorn Tree
Availability:
Out of Stock
Back in stock? Sign up to be notified when it comes back in
Ask a Question
How We Do Things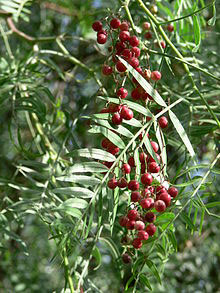 view full screen
---
Recently Viewed
Your recently viewed products will be shown here as you browse
Questions? Contact White House Nursery