Paulownia Tomentosa - Fox Glove Tree
Also known as The Empress Tree, The Princess Tree or The Fox Glove tree. Paulownia is in honour of the Grand Duchess Anna Pavlovna of Russia, also known as Anna Paulowna, a princess of the Netherlands, with tomentosa being derived from the Latin meaning 'covered in hairs'.
In China, an old custom is to plant an Empress Tree when a baby girl is born. The fast-growing tree matures when she does. When she is eligible for marriage the tree is cut down and carved into wooden articles for her dowry. Carving the wood of Paulownia is an art form in Japan and China. In legend, it is said that the Phoenix will only land on the Empress Tree and only when a good ruler is in power.
This fast growing tree has large heads of purple fox glove-like flowers in Spring with large beautiful round leaves the size of footballs in Spring, Summer and Autumn.
In Winter, the tree is deciduous and the leaves turn a yellow-brown before they fall.
Height 10m. Width 8m.
Drought tolerant and Frost hardy
Full sun/Part Shade.
SKU:
Paulownia Tomentosa - Fox Glove Tree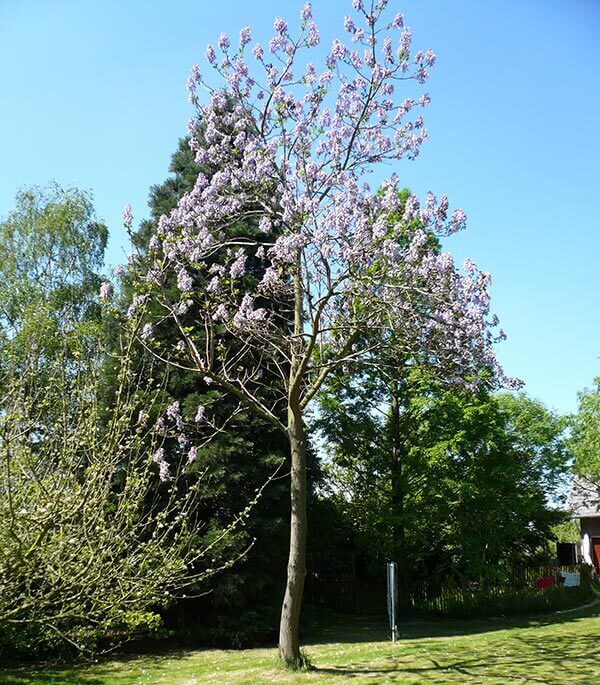 view full screen
---
Recently Viewed
Your recently viewed products will be shown here as you browse
Questions? Contact White House Nursery