Hydrangea quercifolia - Oak Leaf Hydrangea
A personal favorite of ours. A beautiful small Hydrangea with lovely large leaves and white cone shaped flowers in Summer.
This is a deciduous plant, though in some climates, foliage may remain and turn a gorgeous bronze colour until the new shoots begin.
Height 1m.
Width 1m.
Part shade and part sheltered.
A woodland loving plant.
SKU:
Hydrangea quercifolia - Oak Leaf Hydrangea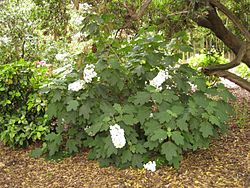 view full screen
---
Recently Viewed
Your recently viewed products will be shown here as you browse
Questions? Contact White House Nursery