Phlomis fruticosa - Jerusalem Sage
This is an evergreen perennial with silver foliage. An excellent plant for those dry, sunny areas.
The tubular flowers in golden yellow are produced in clusters, around the stem, from top to bottom.
Remove spent flowers to encourage more flowers.
Height to 1m Width to 1m
Full sun to part shade.
Frost and drought tolerant.
SKU:
Phlomis fruticosa - Jerusalem Sage
Availability:
Out of Stock
Single Plant
75mm
Single
$8.50
(Out of Stock)
Back in stock? Sign up to be notified when it comes back in
Three Plants
75mm
Pack
$22.50
(Out of Stock)
Back in stock? Sign up to be notified when it comes back in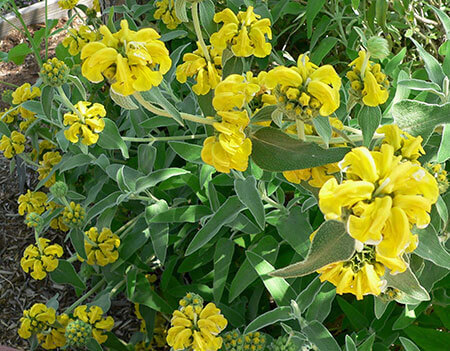 view full screen
---
Recently Viewed
Your recently viewed products will be shown here as you browse
Questions? Contact White House Nursery