Iris ensata - Japanese Water Iris
This is a gorgeous Iris that must have wet feet. Ideal for ponds, dams, water features and wet areas.
It comes in six colours and flowers in summer. They are winter dormant.
We have these as mixed plants only. Unfortunately over the years, the labels have faded, so we have each colour separate, but we don't know what colour it is.
Their colours are; Red, Pink, Mauve, Blue, White and Purple.
So to make sure you get a good mix, we are selling them in divisions with three shoots per division.
You can order 3 divisions at $25 or 6 divisions at $50.
Height to 1.2m, Width to 50cm, Frost tolerant.
Must have wet feet!
SKU:
Iris ensata - Japanese Water Iris
Availability:
Out of Stock
3 Divisions
3 Divisions
$25.00
(Out of Stock)
Back in stock? Sign up to be notified when it comes back in
6 Divisions
6 Divisions
$50.00
(Out of Stock)
Back in stock? Sign up to be notified when it comes back in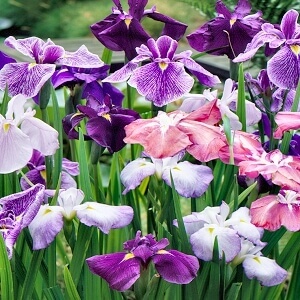 view full screen
---
Recently Viewed
Your recently viewed products will be shown here as you browse
Questions? Contact White House Nursery