Gunnera manicata - Chilean Rhubarb
This strange ornamental rhubarb has the most enormous maple shaped leaves.
They are 1 - 1.5m across, held by fleshy rhubarb-like stalks.
They love wet feet, so are perfect for around ponds, dams or boggy areas.
They are a delight for children and adults alike, as it is 'land of the giants' for them.
Winter dormant.
Height to 2.5m. Width 2.5m
Frost tolerant.
SKU:
Gunnera manicata - Chilean Rhubarb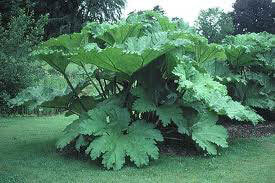 view full screen
---
Recently Viewed
Your recently viewed products will be shown here as you browse
Questions? Contact White House Nursery