Pulsatilla Vulgaris
Pulsatilla vulgaris (Pasque Flower, Common Pasque flower, Dane's Blood) belongs to the Buttercup family (Ranunculaceae), native to western, central and southern Europe.
It grows to 15-30 cm high and when it is fruit-bearing up to 40 cm. The roots go deep into the soil (to 1 m). The finely-dissected leaves are arranged in a rosette and appear with the bell-shaped flower in early spring.
It grows in sparely wooded pine forests or meadows, often on a sunny sloping side with calcium rich soil. It is also the county flower of the English counties of Cambridgeshire and Hertfordshire.
It is the main ingredient in the French tonic hépatoum, taken for crise de foie and to help the production of bile.
Mixed colours only. White, Pink or Mauve.
Availability:
Out of Stock
Back in stock? Sign up to be notified when it comes back in
Ask a Question
How We Do Things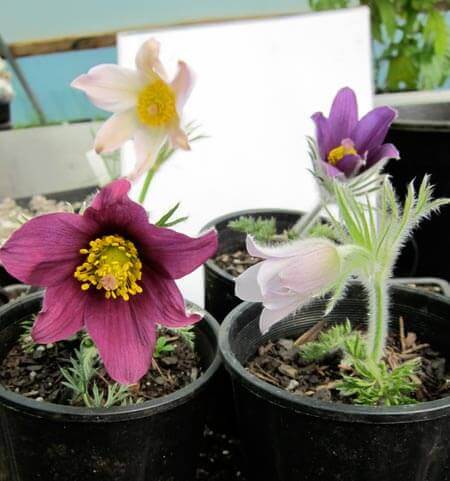 view full screen
---
Recently Viewed
Your recently viewed products will be shown here as you browse
Questions? Contact White House Nursery