Black Passionfruit - Passiflora edulis
This black variety produces round, medium-sized fruit with a soft to firm touch and a juicy tanginess for flavour.
Black Passionfruit gradually sweetens over summer into the autumn, with vines lasting for up to 10 years.
Grown on their own root-stock so there is no suckering.
Full sun to part shade
To 8sq mts
SKU:
Black Passionfruit - Passiflora edulis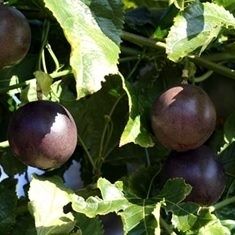 view full screen
---
Recently Viewed
Your recently viewed products will be shown here as you browse
Questions? Contact White House Nursery