Prunis spinosa - Sloe Plum (Sloe Gin)
This deciduous wiry shrub is used as hedgerows that line fences in rural England. Because of it's thorns, it can be cattle proof.
It has white flowers in summer followed by bitter dark fruits in autumn that are traditionally used to make 'Sloe Gin'. So here is a recipe:
Low Nectar. High Pollen.
Prunis-spinosa-sloes
Height to 5m Width to 2m
Full sun to part shade Frost hardy
Sloe Gin
1/2kg Sloes
1.25l Gin
125g Sugar
2-3 drops almond essence
Prick the sloes all over with a sharp needle. Pour over gin and stir in sugar and almond essence. Pour into large airtight container, such as a corked storage jar, and fasten tightly. Leave in a dark place for 15 weeks to allow the mixture to infuse. Shake the container occasionally.
Strain through a funnel lined with muslin or cheesecloth and pour into clean, dry bottles. Seal the bottles and keep for at least 6 months before drinking.
DISCLAIMER
It is the duty of the reader to research information and advice found at this site. We accept no liability for any side effects, allergies, in any form that may develop. Any uncertainty should be discussed with a medical practitioner before use.
SKU:
Prunis spinosa - Sloe Plum (Sloe Gin)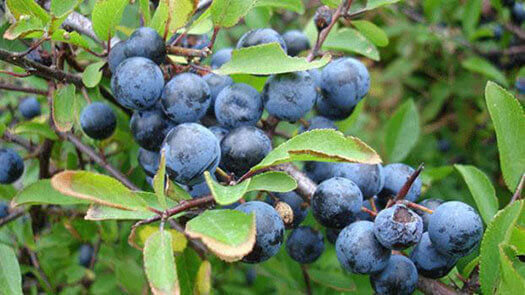 view full screen
---
Recently Viewed
Your recently viewed products will be shown here as you browse
Questions? Contact White House Nursery