Globe Artichoke
This a an evergreen perennial thistle.Globe-Artichoke-in-field.
It comes from Southern Europe and the Mediterranean.
The edible section is the lower portion and is known as the 'heart'.
The mass of immature florets in the centre of the bud is called the 'choke'.
This is a versatile plant. Can be eaten or allowed to flower. A beautiful addition to any veggie garden, perennial border or shrubbery.
Full sun. Frost tolerant.
Height 1m. Width 1m.
Pollen and Nectar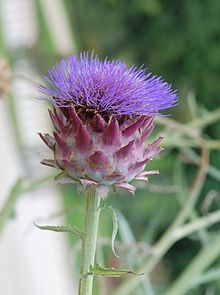 view full screen
---
Recently Viewed
Your recently viewed products will be shown here as you browse
Questions? Contact White House Nursery