Strawberry Guava
Masses of tiny white flowers in Summer/ Autumn, oval red fruit ripening in the Winter.
The fruit can be eaten by cutting them in half and scooping out the pulp and seeds or by biting off a piece of the rind and sucking out the insides. Strawberry guavas taste like a passion fruit mixed with strawberry.
Evergreen large shrub, small tree. As a mature plant, the trunk has a wonderful shiny brown bark.
Frost hardy. Drought resistant. Full sun/ part shade.
Height 3m. Width 3m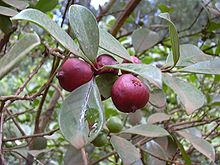 view full screen
---
Recently Viewed
Your recently viewed products will be shown here as you browse
Questions? Contact White House Nursery