Fig - White Genoa
This is a large green fig with pink flesh.
Grow figs in a warm, sheltered spot in full sun. Figs do best when their roots are slightly restricted, so plant them in pots.
Needs well-drained, neutral to alkaline soil in sun.
Figs thrive in containers - a mature tree needs only 1 cubic meter of soil.
Shorten and thin outshoots in early spring to maintain an open and compact bush.
Water young fig trees regularly to help them become established. In areas with dry climates, water fig trees deeply at least once a week.
Unless grown in containers, most fig trees do not require regular fertilisation.
Apply a layer of mulch around the tree to help prevent weeds and keep in moisture for the roots.
Be sure to remove all dead, diseased, or weak branches to encourage growth.
If you have an abundant growth of figs, you can thin the fruit to encourage larger figs.
Full Sun
Height to 6m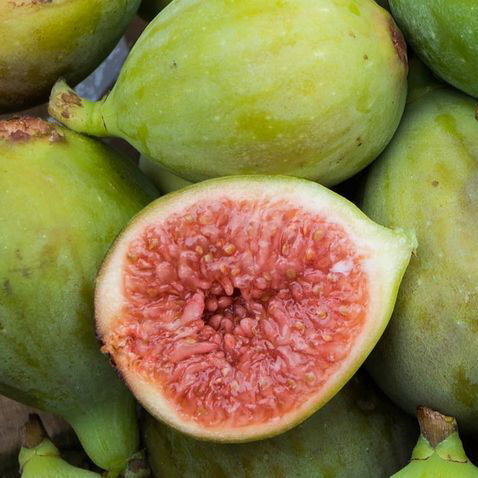 view full screen
---
Recently Viewed
Your recently viewed products will be shown here as you browse
Questions? Contact White House Nursery