Wisteria Sinensis
This mauve wisteria climbs by twining their stems either clockwise or counter-clockwise round any available support. They can climb as high as 20 m above the ground and spread out 10 m laterally. The world's largest known Wisteria vine is in Sierra Madre, California, measuring more than 1 acre (0.40 ha) in size and weighing 250 tons.
Wisteria is very hardy and fast-growing. It can grow in fairly poor-quality soils, but prefers fertile, moist, well-drained ones. It thrives in full sun to partial shade.
Wisteria can grow into a mound when unsupported, but is at its best when allowed to clamber up a tree, pergola, wall, or other supporting structure. Whatever the case, the support must be very sturdy, because mature Wisteria can become immensely strong with heavy wrist-thick trunks and stems. Its pendulous racemes are best viewed from below.
Wisteria flowers develop in buds near the base of the previous year's growth, so pruning back side shoots to the basal few buds in early spring can enhance the visibility of the flowers. If it is desired to control the size of the plant, the side shoots can be shortened to between 20 and 40 cm long in mid summer, and back to 10 to 20 cm in Autumn.
Availability:
Out of Stock
Back in stock? Sign up to be notified when it comes back in
Ask a Question
How We Do Things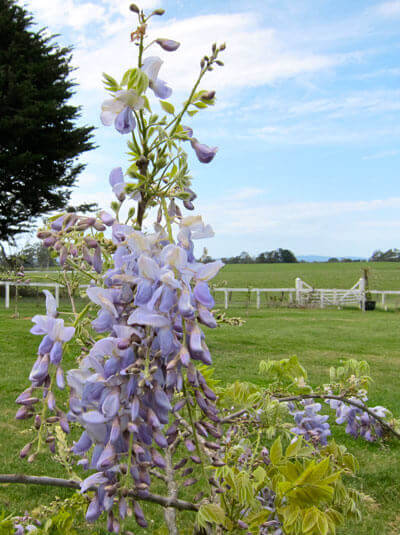 view full screen
---
Recently Viewed
Your recently viewed products will be shown here as you browse
Questions? Contact White House Nursery