Amorphophallus konjak
Amorphophallus (from Ancient Greek amorphos, "without form, misshapen" + phallos, "penis", referring to the shape of the prominent spadix) is a large genus of some 170 tropical and subtropical tuberous herbaceous plants from the Arum family (Araceae).
These are typical lowland plants, growing in the tropical and subtropical zones of the paleotropics, from West Africa to the Pacific Islands. None of them are found in the Americas although a remarkably similar but not closely related genus, Dracontium, has evolved there. Most species are endemic. They grow preferentially on disturbed grounds, such as secondary forests.
These small to massive plants grow from a subterranean tuber. From the top of this tuber a single leaf, which can be several metres across in larger species, is produced atop a trunk like petiole followed, on maturity, by a single inflorescence. This leaf consists of a vertical leaf stalk and a horizontal blade, which may consist of a number of small leaflets. The leaf lasts one growing season. The peduncle (the primary flower stalk) can be long or short.
Winter dormant bulb. Large brown/black spath to 40cm high and to 20cm wide, followed by 1m high trunk and a 30cm girth.
2 to 3 large glossy green bipinate leaves. The stem is a fleshy grey colour with large dark mottled blotches.
Excellent for the fernery, a shady area or as an indoor plant.
SKU:
Amorphophallus konjak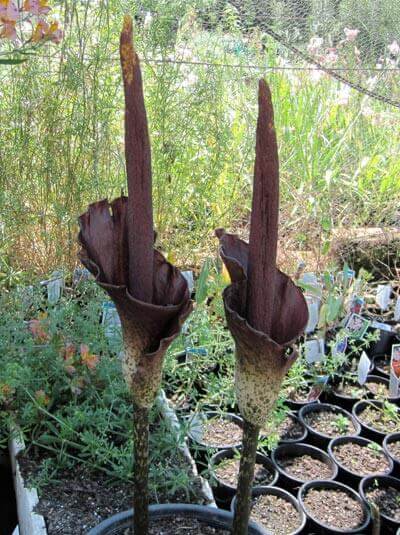 view full screen
---
Recently Viewed
Your recently viewed products will be shown here as you browse
Questions? Contact White House Nursery