Eucomis autumnalis - Large Pineaple Lily
Eucomis is a genus of flowering plants in the family Asparagaceae, subfamily Scilloideae. Most species of this genus are commonly referred to as pineapple flowers or pineapple lilies. They are bulbous perennials with basal rosettes of leaves with stout stems covered in star-shaped flowers, similar to those of the pineapple - hence the common names.
This South African hybrid pineapple lily has either a pink, cream or white pineapple shaped flower.
It flowers in Autumn in the shape of a pineapple to the height of 30cm.
Leaves are green with a pink tinge.
Height to 30cm. Width to 30cm.
Full sun to part shade. Frost and drought tolerant. Winter dormant.
Great cut flower.
SKU:
Eucomis autumnalis - Large Pineaple Lily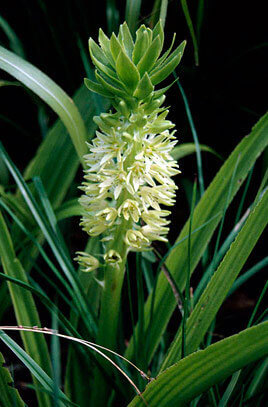 view full screen
---
Recently Viewed
Your recently viewed products will be shown here as you browse
Questions? Contact White House Nursery