Narcissus jonquilla
A very fragrant jonquil.
N. jonquilla has been cultivated since the 18th century in France as the strongest of the Narcissus species used in narcissus oil, a component of many modern perfumes.
Height to 30cm
Width to 15cm
Full sun to part shade.
Drought tolerant
Sold as bulbs or as a plant.
75mm Pot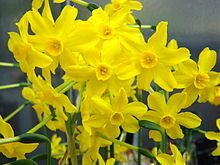 view full screen
---
Recently Viewed
Your recently viewed products will be shown here as you browse
Questions? Contact White House Nursery