Nectaroscordun siculum
This is a bulbous herbaceous perennial.
It has a strong onion or garlic scent when cut.
Flowers as a bell-shaped flower in an umbel on a leafless stem
Height to 1.5m
Full sun to dappled shade
Drought tolerant
Good for Bees. Has rich nectar & pollen flowers
Sold as a bulb in late spring, summer, and early autumn or in a pot in autumn, winter & early spring.
Availability:
Out of Stock
Back in stock? Sign up to be notified when it comes back in
Ask a Question
How We Do Things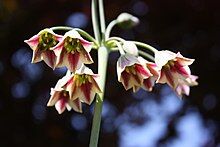 view full screen
---
Recently Viewed
Your recently viewed products will be shown here as you browse
Questions? Contact White House Nursery