Epiphyllum - Wild Thing
Epiphyllum are a wonderful showy display of flowers.
They make an excellent hanging basket and flower from late winter through to the end of summer. They have a beautiful scent.
They require indirect sunlight if possible, or morning sun and afternoon shade at the bare minimum.
The leaves are flat and fleshy, long and glossy. They are interspersed with deep lobes. The flowers open along the leaves around late winter and from then will bring months of colour.
It is a good idea to add some liquid fertiliser fortnightly when they are in flower.
Perfect for under a veranda, patio or somewhere where they can get indirect light.
A really happy Epiphyllum will grow fruit. The fruit will taste like passionfruit and have a texture of kiwi fruit.
They require bottled or tank water as they don't like water with chemicals. You need to keep the plant watered, but not too much, otherwise you will rot the roots. Just like a Cactus
When you purchase from us, you will receive a pot with a stem and attached roots. Transplant this into a hanging basket, a larger pot or the ground.
Be careful with the roots when you transplant, as they are epiphytic (like an orchid) and shallow.
SKU:
Epiphyllum - Wild Thing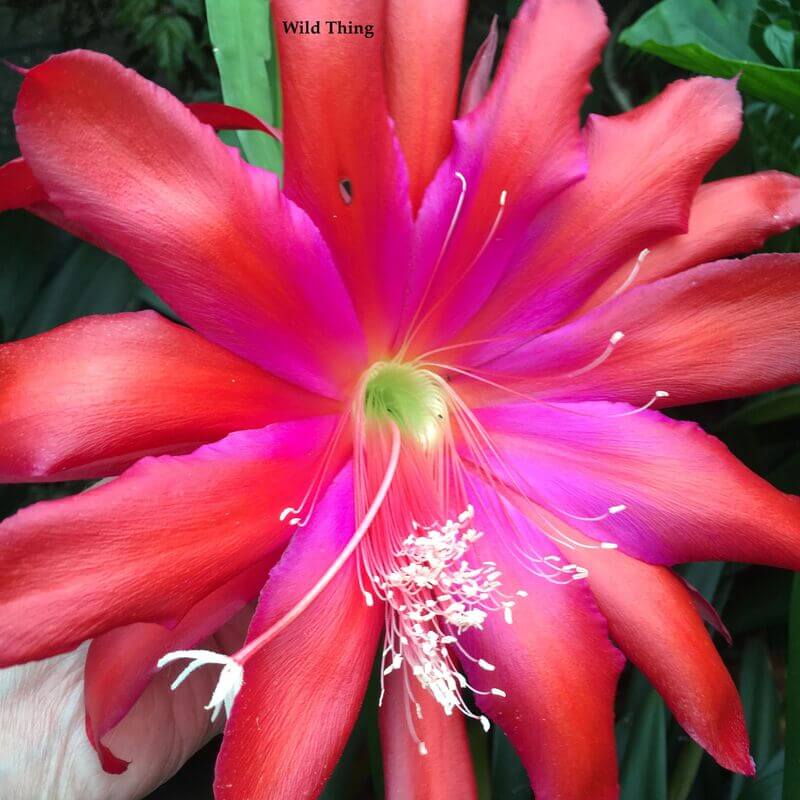 view full screen
---
Recently Viewed
Your recently viewed products will be shown here as you browse